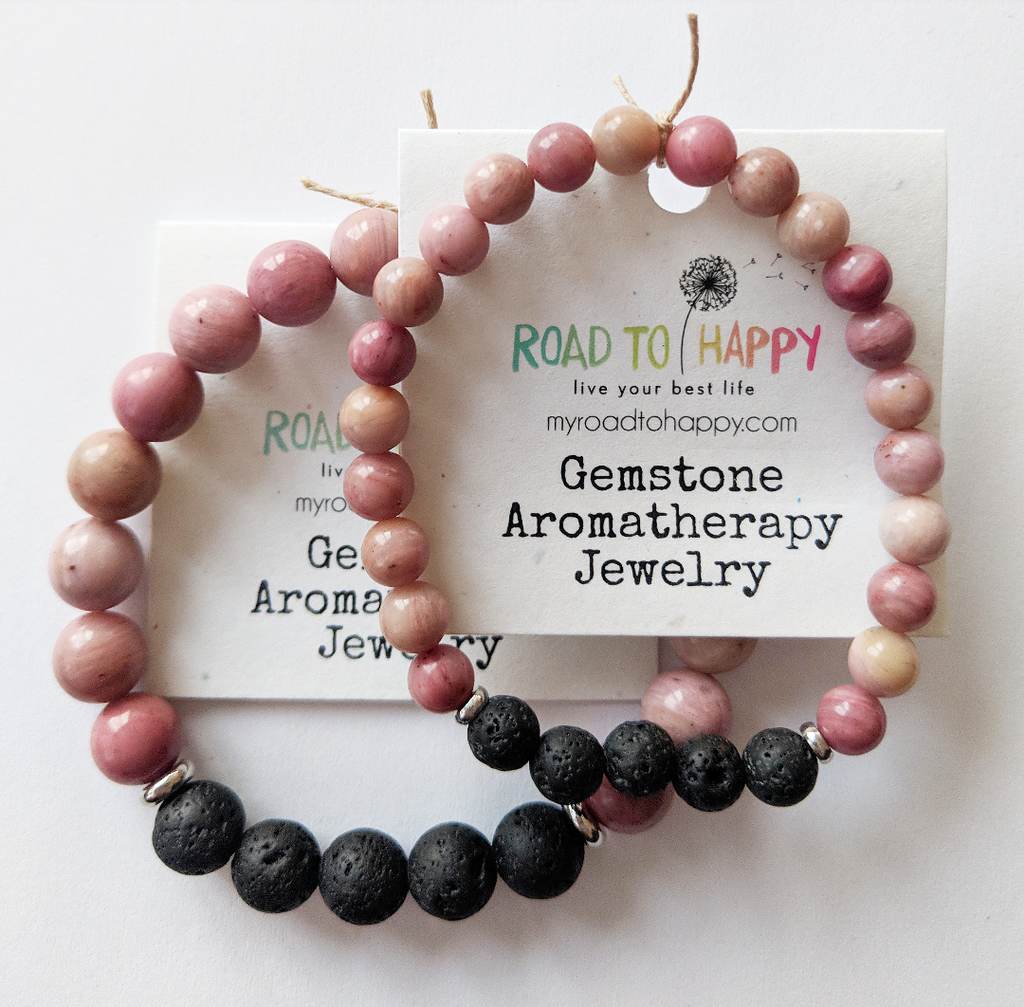 Aromatherapy Bracelet - Rhodonite
NOW AVAILABLE IN 2 BEAD SIZES!
What Can Wearing This Bracelet Do For Your Well-Being?
Lava Rock helps to dissipate anger and to provide guidance & understanding as it assists one in "bouncing back". A very grounding stone, it strengthens our connection to Mother Earth.  
Rhodonite crystals are known for their capacity to bring emotional healing and to release blocked energy from within the heart chakra.
Gently releases self-destructive tendencies, resentments and anger

Can bring one back to center during stressful times and calms emotional shock and panic

Stimulates acceptance, forgiveness and unconditional love towards others and helps to bring peace to troubled relationships

Helps you to discover innate talents that you may not have been aware of, and work out the best way to utilize them. Use them in meditation to help you to discover where your destiny lies
The essential oil you choose to apply to the Lava Rock will determine what other therapeutic benefits you will receive. Just add a drop of your favorite oil to the Lava Rock beads and allow it a few minutes to soak in. Re-apply as often as you like. Essential oils are sold separately. Please note: excess essential oil may cause damage to the beads and the bead string - blot off any wet excess oil with a paper towel or cloth before wearing. Essential oils are extremely concentrated and only 1 drop is needed. Apply only to the lava beads.

Please note that all bracelets are made to order and due to the uniqueness of each gem, the exact colors of the individual beads may appear slightly different than those in the photo. Note: This listing is for one bracelet of your size and style choice.

Here at Road to Happy, we know that one size does not always fit all. Please choose both the bead size (6mm, 8mm or 10mm) and wrist size when you order to ensure the best possible fit. If you don't see your wrist size listed please specify in the comments at checkout (for kid's sizes please comment size request at checkout).

All aromatherapy bracelets are handmade with love and intention in Niagara, Canada by Road to Happy.