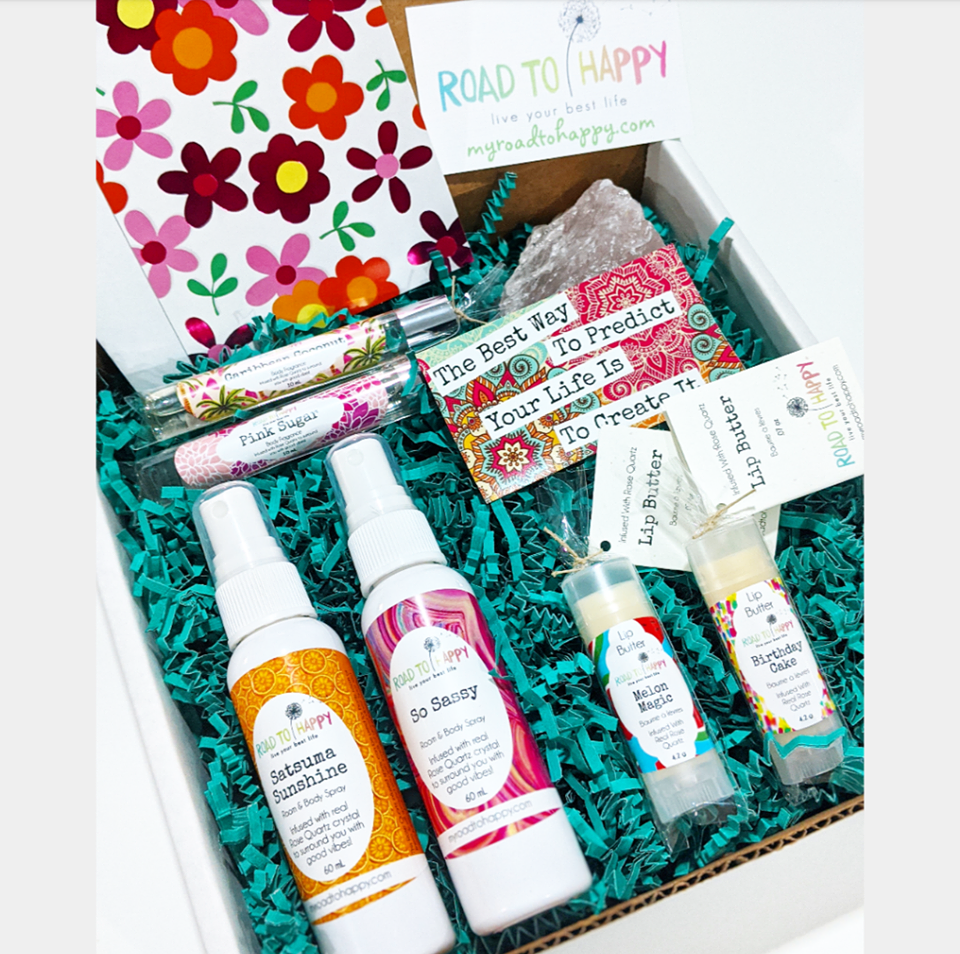 Gift Box - Rose Quartz Sampler
Make Gift Giving Easy!
Deciding which of our Rose Quartz infused goodies to get is hard when we have so many choices! Let us make shopping and gift giving EASY with our new gift box sets!
Each set comes in a sturdy white 8x8x2 box filled with teal paper shred, making it suitable for safe and reliable shipping. Each box will include a note card with a personal message from Road to Happy. If you would like to include your own personal message for the recipient instead, or if you would like a blank card so that you can write your own note, just let us know in the comments at checkout.
In addition, if you would like to change any of the scent choices for the exact same item, just of a different scent - also note that in comments at checkout and we will contact you to confirm availability and the changes. Keep an eye on your spam/junk mail for our correspondence. 
CUSTOMIZATION - If you would like to ADD other items to this box, simply order them individually IN ADDITION to ordering this box and leave us a comment at checkout with instructions. If you would like to make changes to the scent/style of an item, leave instructions at checkout.
The Rose Quartz Sampler Includes:
-A large chunk of raw Rose Quartz and a card explaining the properties of this beautiful crystal
-2 Hand blended roll-on body fragrances infused with real Rose Quartz crystals (Pink Sugar & Caribbean Coconut)
-2 Hand blended body & room sprays infused with real Rose Quartz crystals (Satsuma Sunshine & So Sassy)
-2 Hand poured lip butters infused with real Rose Quartz crystals (Birthday Cake & Magic Melon)
-1 Magnet (magnet style may change depending on availability)
-1 Postcard Using Our Own Photography (see second photo)
Please note: Orders are processed separately from our emails and social media. If you would like to leave us a note or make changes to this or any other item, you must do it AT THE TIME OF YOUR ORDER in the comment box at checkout. We cannot guarantee we will see your email before your order has been processed and shipped.