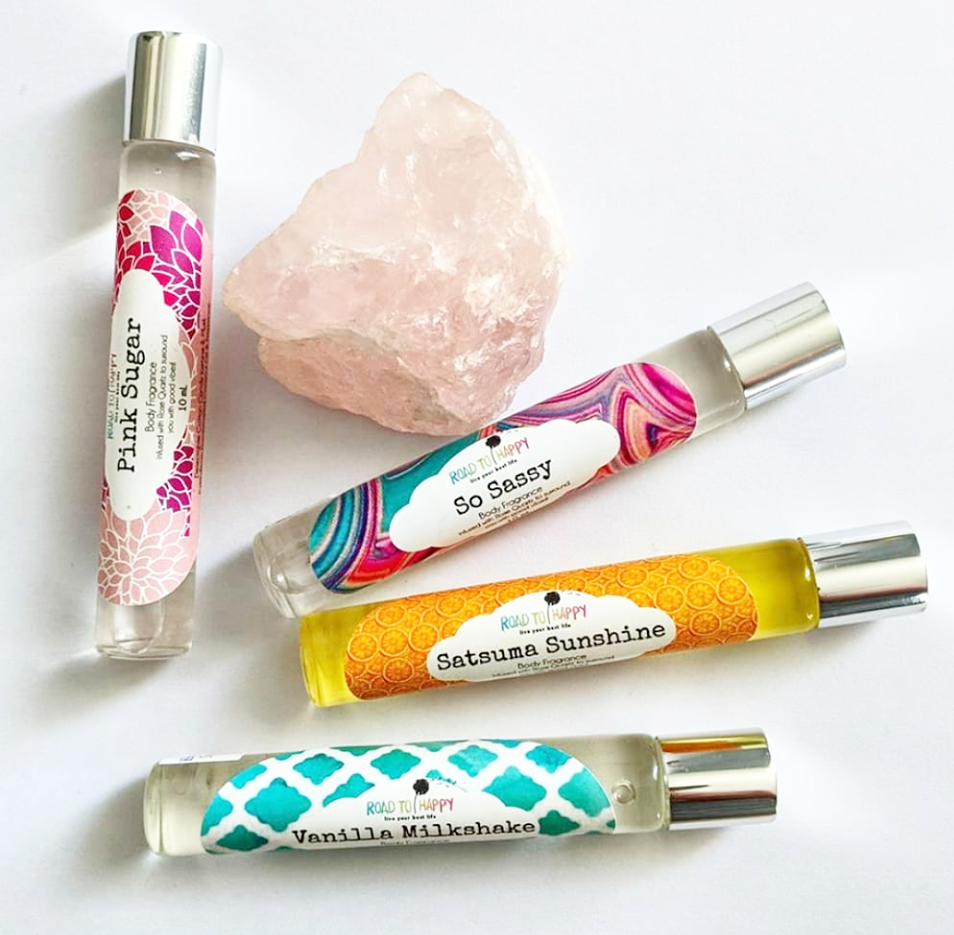 Rose Quartz Infused Roll On Perfumes
Hand blended & infused with Rose Quartz crystal to surround you with good vibes! -Vegan Friendly-
These sleek roll on perfumes come in all your fave scents! The lightweight glass bottle with stainless steel roller ball make them super easy to apply and easy to take with you. Perfect for the purse, beach bag or carry on travel bag!

In addition to using only the highest quality fragrance, essential oils and carrier oil (fractionated coconut oil), Road to Happy perfumes are infused with Rose Quartz, the stone of unconditional love. Rose Quartz speaks directly to the Heart Chakra, dissolving emotional wounds, fears and resentments, and circulates a Divine loving energy throughout the entire aura. Small Rose Quartz gemstones can be found in every bottle - just a little token from us to you to show you how much we care.
NEW 2022 SUMMER COLLECTION (10 exciting new scents!):

Coconut Lime Twist - A tantalizing fusion of fresh coconut, lime and invigorating verbena soothed by luscious vanilla. If you love clean fresh and fun you will love Coconut Lime Twist!
Enchanted - Calling all our earthy, warm and spicy fragrance fans! Warm, cozy and a little sexy...Myrrh, Magnolia, Tonka Bean, Patchouli, Bergamot, Cinnamon & Vanilla are the main notes in this gorgeous new scent. 
Firefly Magik - If childhood was a scent...Sweet delightful blend of banana cream pie, lemon zest and peach nectar. If you are a fan of Lush's Snow Fairy - this scent is for you!
Good Vibes  - Fruity, fun, happiness in a bottle is the best description we can think of! This scent is abslolutely DELICIOUS! Crisp top notes of pineapple and peach infused with a blend of citrusy orange. Find traces of rose, wood violet and carnation in mid-notes adding zest that settles into luscious vanilla cream.
Moonlight Tropics - Oh so tropical - a MUST HAVE for both Summer days and nights. A lush blend of tropical fruits, apple, pear, melon, vanilla and a hint of warm musk.
Passionfruit Paradise - A tantalizing fusion of passionfruit nectar and juicy nectarine slices with notes of ripe mango, lemon zest, rome apple and plumeria.
Pinkberry Mimosa - A playful combination of sweet strawberries, ripe raspberries, citrus peel and sparkling pink moscato.
Sea Splash - Sea water, rosemary, lavender, jasmine, geranium, neroli, mint, oakmoss, musk and sandalwood.
Secrets - A warm, sensual, haunting aroma. Nuances of warm vanilla, sandalwood, patchouli and blackberry blends with musk at the base for an overall rounded, romantic scent.
Solstice - Summer in a bottle...a groovy blend of plump grape, juicy bubblegum and herbal anise highlighted by violet, lilac, rose, and jasmine.
Original Scent Collection:
Amber Sunset - Sensual Amber with notes of Cedar, Powder, and Ozone
Caribbean Coconut - Coconut Milk & Cool Vanilla
Carnival - Cotton Candy, Strawberry, Vanilla & Pink Sugar
Champaka Fields - 60's inspired notes of Champaka, Jasmine, Rose, Lily of the Valley, Powder and Musk
Earth Goddess - Sandalwood, Mahogany & Vanilla
Jasmine Moon - A hint of fruit with exotic Jasmine, Rose, Lilac, Musk, Ozone and Wood notes
Love Spell - Orange, Peach, Cherry Blossom & White Jasmine
Patchouli Passion - Patchouli, Pink Grapefruit & Bergamot
Pink Sugar - Cotton Candy, Jasmine & Musk
Sandalwood Seance - Sandalwood, Mahogany & Deep Woods
Satsuma Sunshine - Mandarin, Zesty Orange Peel & Blooming Petals Of Orange Flowers
So Sassy - Pomegranate, Osmanthus Flower & Marshmallow
Urban Beat - A Citrus splash with Cardamon, Petigrain, Rosemary, Lily of the Valley, Jasmine, Rose, Amber, Musk, Vetiver and Wood notes
Vanilla Milkshake - Churned Butter, Sugar & Vanilla 
Verbena Vixen - Verbena, Sicilian Lemon, Orange Zest, Jasmine, Amber & White Musk
Handmade with love and intention in Niagara, Canada by Road to Happy. 
Would you like to have our products as favors at your wedding or event or carry them in your retail location? Contact us for bulk pricing.