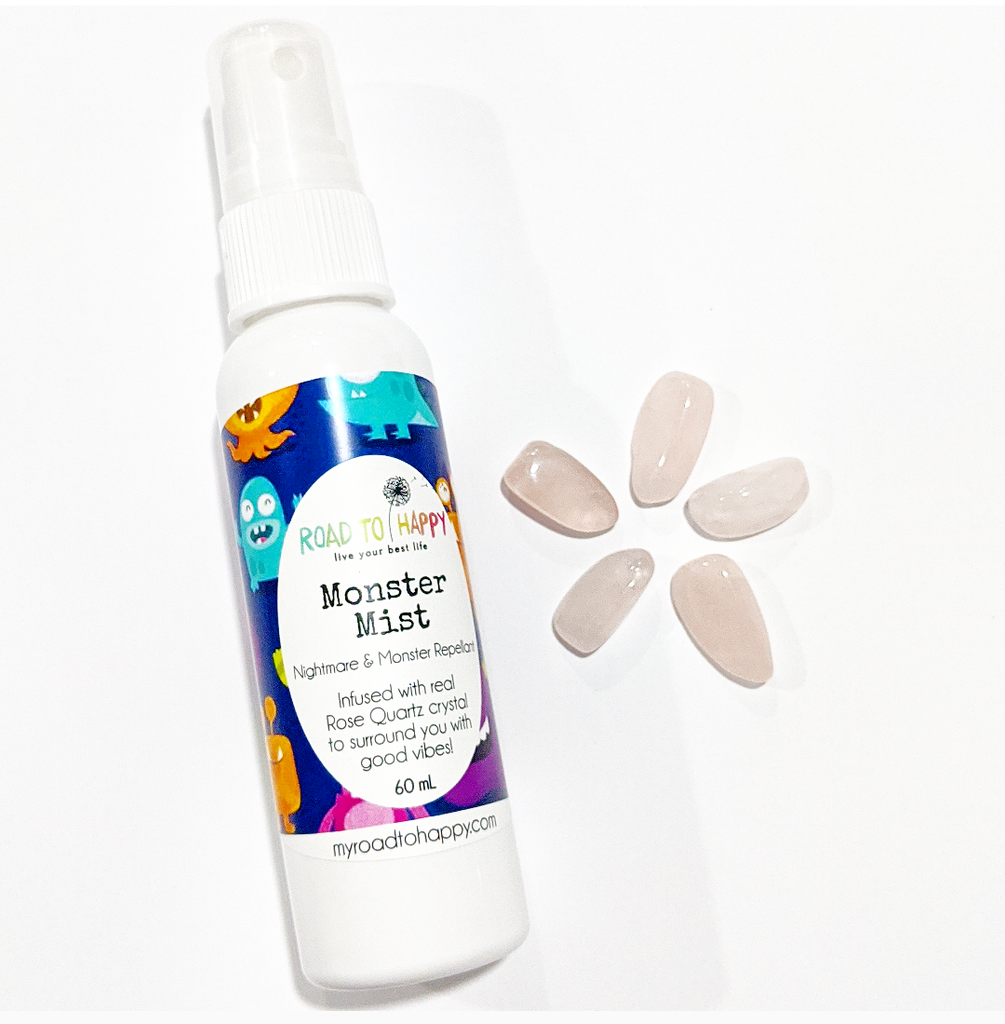 Monster Mist
Monster Mist is a MUST HAVE for every household! Just a few spritzes will keep the monsters away and the nightmares at bay!
Directions: Mist into the air as needed. 
Available in several different scents using both 100% pure essential oils and paraben free fragrance oils and packaged in a 2 oz (60 ml) bottle with spray nozzle. 
In addition to using only the best quality oils, Monster Mist is infused with Rose Quartz, the stone of unconditional love. This powerful gem helps us to face our fears, reduce our stress and invites loving energy into your space - perfect for repelling monsters! Small Rose Quartz gemstones can be found in each bottle - just a little token from us to you to show you how much we care.
Scents: (note - each scent has the identical Monster Mist label)
Lovely Lavender - A calming, herbaceous scent with a balsamic-woodsy undertone. Lavender is well known for its calming properties and is often used as a sleep aid at bedtime. 
Firefly Magik - If childhood was a scent - Sweet delightful blend of banana cream pie, lemon zest and peach nectar. If you are a fan of Lush's Snow Fairy - this scent is for you!

Cupcake Diaries - Fluffy white cupcakes frosted with vanilla buttercream and dusted with candied lemon zest and fresh blueberries.
Solstice - A groovy blend of plump grape, juicy bubblegum and herbal anise highlighted by violet, lilac, rose, and jasmine.
La La Lemongrass - A fresh, bright citrus scent with earthy undertones
Vanilla Milkshake - An irresistibly warm and comforting vanilla aroma that smells good enough to eat!
Other - We know that scent is personal and sometimes kiddos have a particular favorite! We have the option for you to customize your Monster Mist with ANY of our original room & body spray scents. Choose "other" as your scent and leave a note in the comment box at checkout with your preference.
To see a full list of our scents visit here: https://www.myroadtohappy.com/collections/rose-quartz-infused-roll-ons-perfumes-sprays-lip-butter/products/2-in-1-body-room-sprays?variant=13732650352686
Ingredients: Distilled Water, Witch Hazel, Fragrance/Essential Oil, Natural Preservative & Rose Quartz 
Please note: Monster Mist is a wonderful spray safe for both room & body, however, it is a novelty item. If using on fabric, spot test first. If using on body and irritation occurs, discontinue use. Keep out of reach of small children. Ages 2+. For external use only.