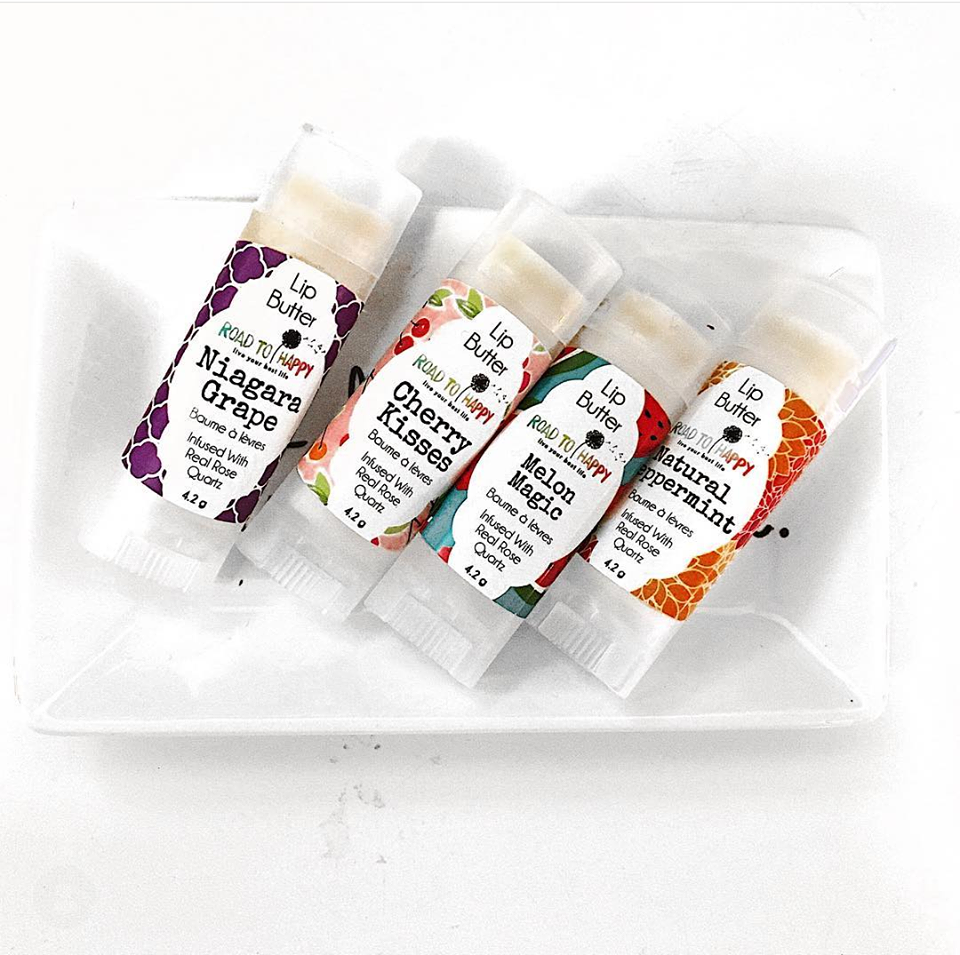 Luscious Lip Butter Infused With Rose Quartz $6 or 4 for $20
These Cocoa Butter based lip butters are sure to keep your lips silky soft and come in loads of great flavors! As an added bonus each butter is infused with a real piece of Rose Quartz that will surround the wearer with positive vibes! -VEGAN FRIENDLY-
Keep your lips luscious with Road to Happy Luscious Lip Butter! Our butters go on silky smooth and are loaded with antioxidants and Vitamin E. Lip butters are cocoa butter based, vegan friendly and completely natural with the exception of a few drops of flavor.
All butters are infused with Rose Quartz, the stone of unconditional love. Rose Quartz speaks directly to the Heart Chakra, dissolving emotional wounds, fears and resentments, and circulates a Divine loving energy throughout the entire aura. A tiny piece of Rose Quartz gemstone can be found in each tube - just a little token from us to you to show you how much we care.
Luscious lip butters come in a sleek oval tube perfect for your pocket or purse. Perfect for on the go!
If purchasing the 4 for $20 special - please click on that option in the drop down menu to get the discounted price and then list your flavor choices in the comment box at checkout.
Current Flavors:
Strawberry Licious
Mango Tango
Blueberry Blush
Coconut Cream Dream
Key Lime Pie
Carnival (Cotton Candy)
Blue Razz (Blue Raspberry)
Birthday Cake (Vanilla Buttercream) (Temp Sold Out)
Whole Lotta Colada (Pina Colada)
Melon Magic (Watermelon)
Dreamsicle (Orange Creamsicle)
Cherry Kisses (Natural Black Cherry)
Niagara Grape
Rockin' Root Beer
Natural Peppermint
Natural Lavender
Ingredients: Cocoa Butter, Fractionated Coconut Oil, Candelilla Wax, JoJoba Oil, Essential Oils or Flavor and Rose Quartz.
Handmade with love and intention in Niagara, Canada by Road to Happy. 
Would you like to have our products as favors at your wedding or event or carry them in your retail location? Contact us for bulk pricing.